For the first time, the renowned Royal Flying Doctor Service of Australia (RFDS) has live flight tracking across some 1.8 million square-kilometres of outback Queensland. And it is down to a purpose-built ADS-B network back by a powerful data capture, flight management and operations analytics platform.
This huge area of inland Queensland – over twice the size of Texas – is now covered by 32-plus ADS-B receivers in a network designed, supplied and managed by Queensland's own aviation technology leader, SkyNet Aviation®.
The overall region, characterised by plains, deserts, scrubland, jungles, wetlands, mines and colossal cattle stations, presented a major aircraft tracking challenge for the RFDS Queensland Section. While Australia's aviation sector is world-class in general, the outback is so big and so empty that there is often no aircraft tracking infrastructure at all.
To date, RFDS – Queensland Sector, just like other operators, has relied on a combination of satellite, radio, radar and dead reckoning to ascertain aircraft position. These technologies, while serviceable to a point, lack either precision, responsiveness of cost-effectiveness. In late 2019, senior management of RFDS – Queensland Section deemed it an operational situation that was unacceptable for what is the world's largest and most comprehensive aeromedical service. So they did something about it.
Key points
Client name: Royal Flying Doctor Service – Queensland Section
Client problem: Inefficient and ineffective aircraft tracking
Project duration: January 2020 – July 2020
Project location: initial network of 32 sites covering 1.8 million km2 of Queensland outback
Goal: Remote and real-time operational awareness for a fleet of 20 air-ambulances
Outcome: Successfully delivered on time and on budget
Read on to find out how, in less than 12 month, the RFDS – Queensland Section, SkyNet Aviation and Ergon Energy all teamed up to achieve world's best aircraft tracking standards across an area of Australian outback, that despite being the size of Western Europe, has a population that would barely fill a large football stadium.
The story is a perfect example of how any operator can rapidly acquire the ability to see, track and monitor its whole fleet aircraft, no matter how far they fly – desert, mountains, jungle, land or sea.
Quick facts about the Royal Flying Doctor Service
Services:

Essential primary and preventative healthcare services

Established: 1928
Fleet: 77 aircraft
Bases: 30 – 24 aeromedical bases and 6 remote primary healthcare facilities
Operations: 370,000 episodes of patient care across Australia per year
Operating sections:

Central Operations (South Australia/Northern Territory)
Queensland Section
South Eastern Section (New South Wales/Australian Capital Territory, Tasmania and aircraft for Victoria)
Victoria Section (ground-based operations)
Western Operations (Western Australia).
Quick facts about RFDS – Queensland Section
Area served: 1.73 million square-kilometres
Fleet: 17 x Beechcraft King Air B200, 3 x King Air B350C
Average patients consulted per year: 98,000
Average patients transported per year: 11,700
Bases: 8 – Cairns, Townsville, Mount Isa, Charleville, Longreach, Roma, Rockhampton, Bundaberg, Brisbane.
Staff: 66 pilots, 60 doctors, 88 nurses, plus support staff.
Promise: To deliver the finest care to the furthest corner of the state.
Identifying the issues
As an air ambulance service, the main objective for RFDS – Queensland Section is always the quality of care for the patients. However, to work towards this goal requires careful coordination and management of the 20 aircraft in the fleet. How do you get the most out of these valuable assets?
What SkyNet Aviation offered by way of a purpose-built ADS-B network and the software platform to make the most of the data it generated was too promising for RFDS – Queensland Division not to investigate. Spearheading the project was Andrew Barron, RFDS – Queensland Section Chief Operating Officer. He cleared the way and gave the project the greenlight for State Manager – Queensland Operations Charlton Campbell to work with SkyNet Aviation day to day to bring the project to fruition.
RFDS is always looking at ways to build on its levels of care and said its baseline before having an ADS-B solution was a 2-minute reporting interval for aircraft movements. When patients are being transported and moved between aircraft and ambulance, every moment matters.

Barron says
The previous system used by RFDS – Queensland Section could only track aircraft at two-minute intervals, where SkyNet Aviation's ADS-B system brings that down to as little as 1 second while also offering a Day Of Operations suite of operational tools to capitalise on that capability. Delivering this capability rested on the shoulders of SkyNet Aviation CEO Jon Davis and his expert software engineering team.
The third partner in the solution was Queensland's regional electricity provider, Ergon Energy – a strong corporate ally of RFDS. Across Queensland, Ergon maintains a massive infrastructure presence (including 33 power stations and 207,000km of power lines).
Ergon had the critically important role of making available its facilities at strategically crucial locations for the installation of the ADS-B receivers needed to support RFDS tracking operations. This innovative leveraging of alliance and access to existing infrastructure is a key focus of how SkyNet Aviation makes solutions happen efficiently.
Diagnosing the solution
While the ability to track something as sophisticated as a $10-million air ambulance sounds unremarkable in the age of smartphones and GPS, bear in mind that those technologies rely on infrastructure, such as mobile towers, that simply doesn't exist in the outback. The immensity and emptiness of inland Australia is hard to convey. And while Queensland only represents a portion of "the outback" in total, it is still a colossal expanse of land. And yet the "Queensland Outback" statistical division, which largely aligns with the network's coverage, only has 79,700 residents.
Thus, the operating situation is one where domestic aviation:
is well regulated, reliable and established
serves a low population density
covers vast distances.
In combination, these factors mean the economics of supporting aviation with extensive ground infrastructure do not stack up. Other than Australia, this combination of A, B and C is perhaps only found in Canada, Russia, South Africa and, of course, at sea.
Further, while ground ADS-B receivers are common worldwide, they are generally only placed ad-hoc where the population base warrants it or to cover aerodromes with high volumes of traffic. In places where few people live and the air traffic is sporadic, ad-hoc ADS-B networks tend not to occur. They must be purpose-built. And for that SkyNet Aviation is the world leader.
Planning the RFDS – Queensland Section's ADS-B network
As a specialised division of SkyNet Satellite Communications, SkyNet Aviation® draws from and focuses all its parent company's expertise to develop, build and deliver solutions for the aviation sector. This work covers enterprise-grade IT development and communications solutions for satellite connectivity, navigation services, asset monitoring and fleet tracking.
For years now SkyNet Aviation® has been building out both network capacities in and data insights deriving from ADS-B technology. The company currently has receivers in place in multiple countries as well as far out to sea. The RFDS project was a perfect example of both the operational capabilities of ADS-B and the power of capturing and capitalising on all the data it generates.
"RFDS – Queensland Section needed to have operational oversight of all its assets in order to get the best from its fleet in order to maximise patient care,"

Davis says.
Barron backs this, saying RFDS is always looking at ways to build on its level of care: "This is another way we are achieving that goal."
Delivering the solution
As with SkyNet Aviation's other ADS-B clients, the first step with building an ADS-B solution for RFDS – Queensland Section was to run a comprehensive flightpath analysis to yield a heatmap of air operations. This advanced chart then forms the basis for working out where critical coverage and ADS-B receivers are required.
For RFDS – Queensland Section the result was clear: most traffic parallelled the Queensland coast (generally south-east to north-west) while those flights further inland had a definite in-and-out pattern.
From this heatmap, locations for at least 32 initial ADS-B receivers identified (more have come online since publication). The next phase involved bringing in RFDS corporate ally Ergon Energy. The power company had agreed to make its considerable on-the-ground electricity infrastructure available as sites where the ADS-B receivers could be securely installed with guaranteed power supply.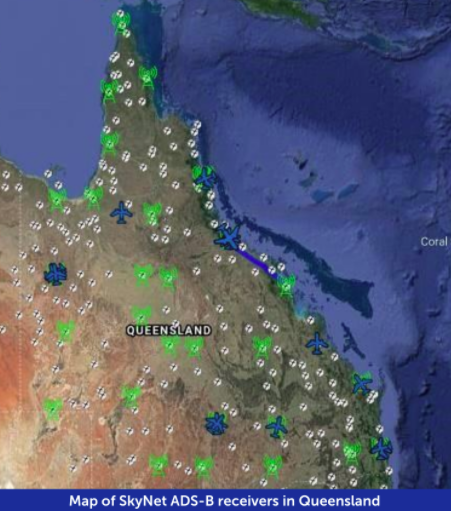 Each of the 32 receivers was soon installed. Because the SkyNet Aviation ADS-B units have been designed to be simple to deploy for anyone with a modicum of technical training, the technical aspects of this phase went smoothly – even if the logistics presented some hurdles.
"We began the implementation process just over six months ago. Due to the vast geography of Queensland, getting all of our 30 or so receivers in some very remote locations wasn't without its challenges." Barron says.
Once the system was live, the task became one of SkyNet Aviation working with RFDS – Queensland Section staff to train them up on the new capabilities of the network and the software, REACH Aero Day of Operations, that backs it and its associated dashboard and app.
The system in service
Going into commission without a hitch, SkyNet Aviation® CEO Jon Davis says the real result of the network is more effective and reliable access to medical care for thousands of people living in the remote townships, farms and mines of regional Queensland.
"With the ADS-B sites, we have saturated all the regional airports of Western Queensland with coverage. RFDS – Queensland Section now has the capability of seeing down to the ground,"

Davis says.
"As well as the solution for the RFDS operations room, there is also a secure app. This means operations managers and executives can check live fleet status instantly on their phones – and it's a full display like you might see in an operational control centre in the palm of their hand or on their laptop screen.
"Those who are responsible for keeping things running have an instant and total overview. If it's green across the board, there's nothing to worry about. If there is an issue, they know sooner and can do something about it with more agility.
"And it's not just for managing operational issues, this is a business improvement tool. RFDS – Queensland Section can analyse movements, manage the fleet and dispatch faster and more efficiently."
Now a few months in, Andrew Barron says the adoption process has been "incredibly smooth".

Davis reports.
"Most of the senior team have the mobile app on their phone. We can get on our mobiles any time day or night and see where any of our aircraft are and when they will arrive. This gives everyone better situational awareness right when they need it," Barron says.
"This really helps us manage the logistics of our patient transfer and liaising with Queensland Ambulance Service to make the handover of patients quick and efficient.
"By increasing the efficiency of handover, it means there is less waiting time for patients, and they are able to get to their destination of care much quicker."
Barron notes the system backing the network is also delivering operational improvements.
"The Skynet Aviation System gives them a whole new set of tools to be able to reduce delays we may have previously experienced in our tasking system."

"The beauty of the new system is not just the ability to track our aircraft more frequently, but the system and set of tools that goes with it. The greater amount of clearer information that is now available to our Duty Tasking Officers including arrival times, altitude, et cetera – all the tools that they use to make decisions around access to the right aircraft are available at the right time."

"The RFDS is always looking at ways to build on our level of care, and this is another way we are achieving that goal."

Barron says.
Project success
For an aeromedical provider, everything is focused on improving patient care. And, as Andrew Barron says, the boost the SkyNet Aviation has delivered to RFDS- Queensland Section's operational capability means just that.
"They are able to get to their destination of care much quicker," Barron says.
Davis, meanwhile, is full of praise for the commitment RFDS has to its mission of providing excellence in, and access to, primary health care and aeromedical services across Queensland.
"RFDS are brilliant and extremely interested in adapting and being leaders in new technologies that can improve patient care and outcomes.

"We're pleased to be part of helping them improve the health of Queenslanders."

Says Davis.
In sum, the prescription has been simple: the more flights the RFDS can coordinate for each aircraft, the better they can serve patients. And now, enabled by ADS-B delivered by SkyNet Aviation and in place on sites provided by Ergon Energy, they are doing that at a level that befits the world's largest aeromedical service.
"The Royal Flying Doctor Service now has world-class 24/7 capabilities to manage their aircraft,"

"Where are they? Where are they going? Who is on board? Are they late or early? What is the weather like where they are and where they're going? The operational and management staff can see the state of the entire fleet across Queensland – all at once and live. To the second."

Davis sums up.