Real-Time Tactical Operational Tools & Reporting
---
Aviation companies rely on SkyNet because we support Regular Public Transport (RPT), Charter or Private Operations with either Fixed or Rotary Wing aircraft.
---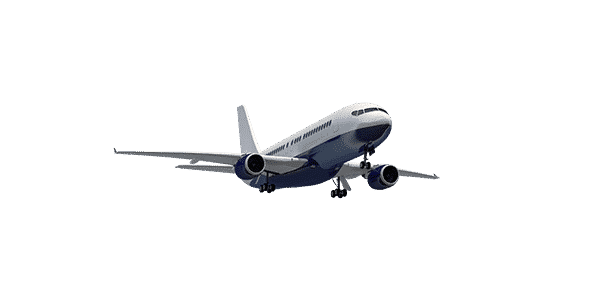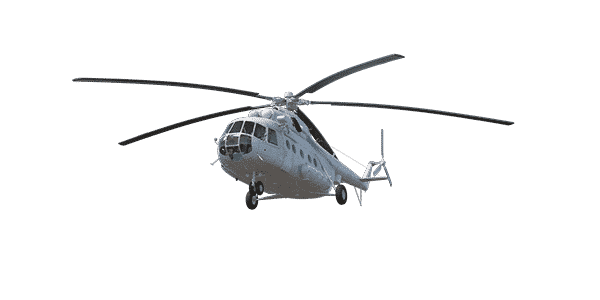 Your Aviation Day of Operations Suite Includes:
---
SkyNet REACH® Aero is available across both Helicopter and Airline operations and enables you to maintain a critical picture of the 'Right Now' across your operation and what happens next. This helps offer options to manage unforeseen delays from engineering and people.
---
---
---
Flight Following via Satellite, Cellular & ADS-B

In-Flight Messaging with Message Priority Queuing

Multi-Language & Time Zone Support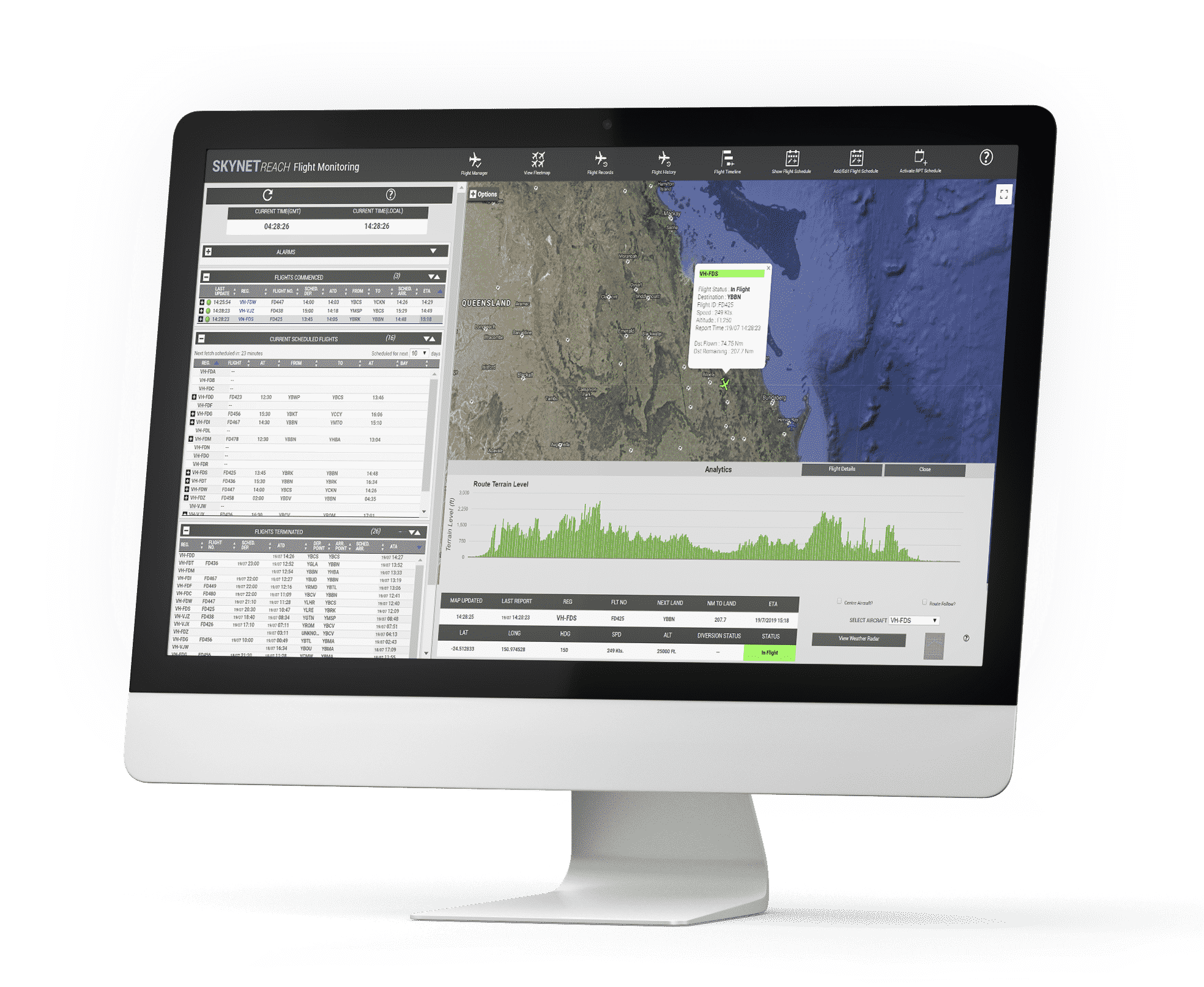 ---
Demonstrating a high level of punctuality and reliability is vital in a highly competitive aviation market with consumer choice at record levels. Airlines want to analyse post flight analytics and gain valuable insights into the performance-driven data of their fleet and to seek out systemic issues that can contribute to delays or hinder the highest performance achievable.
---
---
---
View Delayed Flight Information

OTP & Departure Delay Statistics

Analytics via Gantt Chart View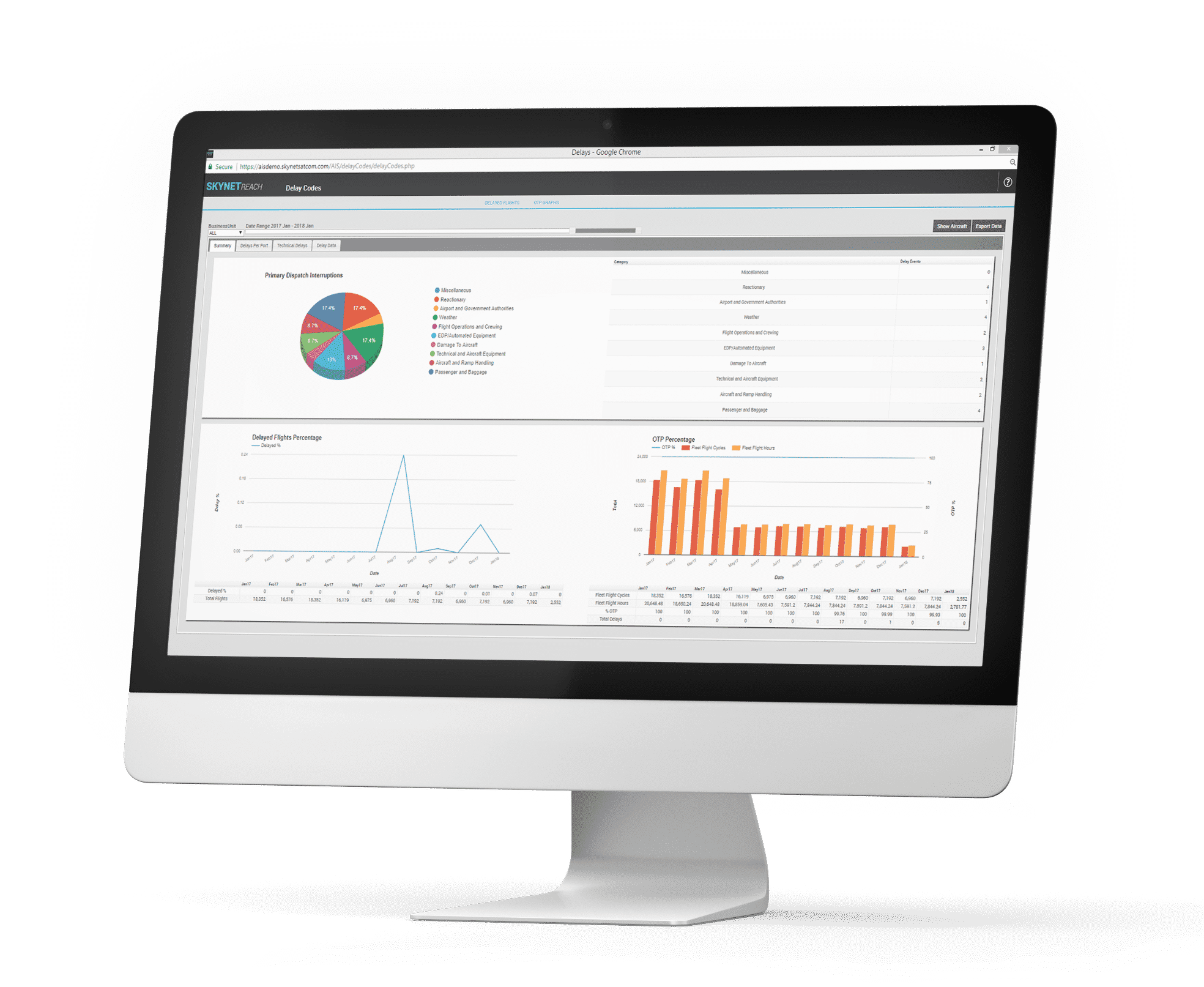 ---
Turn-Around Reporting (TAR) is becoming increasingly important for aviation companies from all streams. At no stage in a complete flight cycle are more events happening than on the ground that have the potential to delay departures or cancel flights. TAR can provide significant analytics to review which ports in your network have recurring ground delays and systemic problems caused by internal or external factors.
---
---
---
Delay Code Reasons

Export Data to CSV

Average & Total Delay Times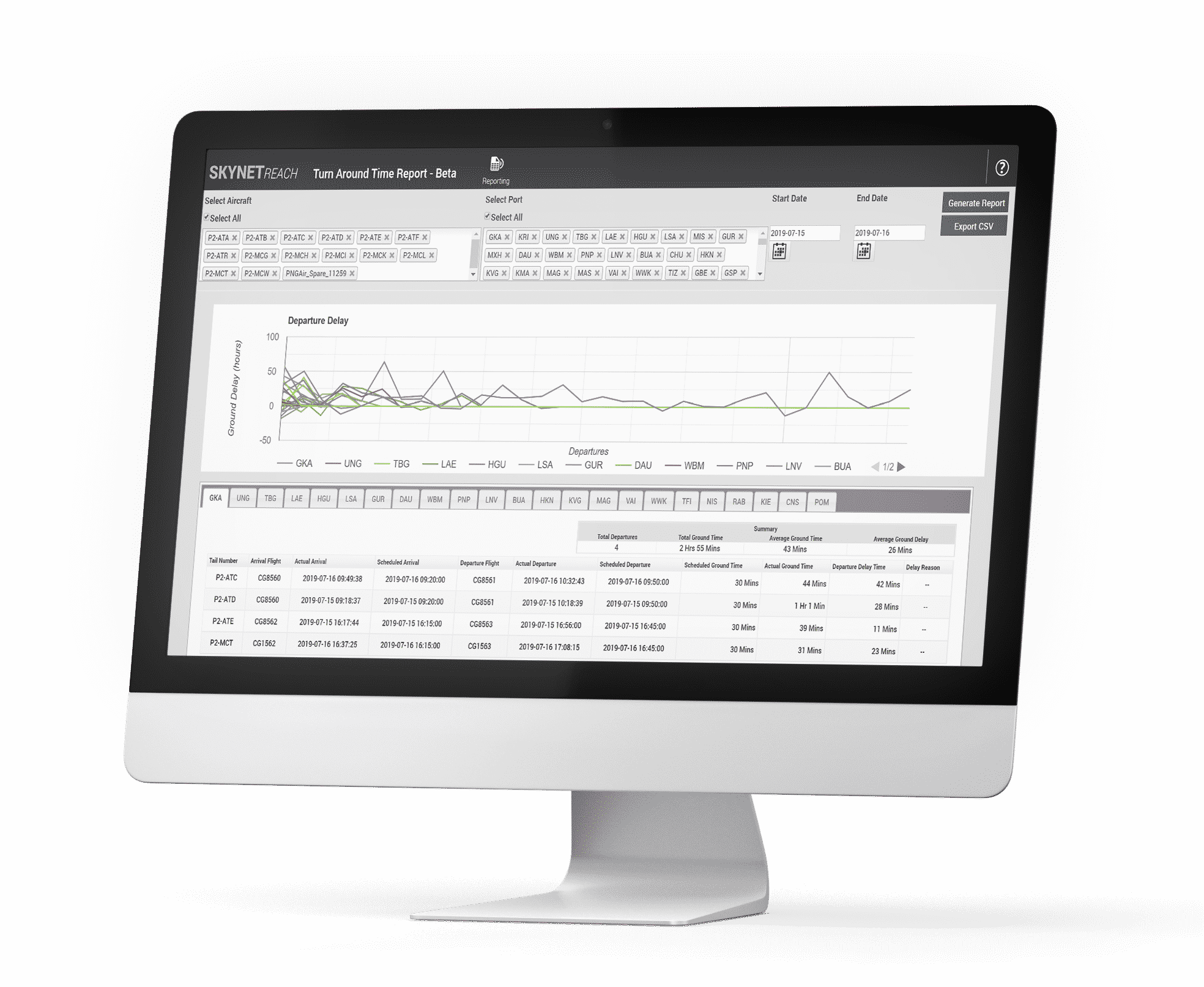 Flight Records Management (FRM)
---
We know real-time information is invaluable.  We also understand historical flight records are also valuable looking at a past flight you have flown. What if we could also delve deeper and link so much more?  Crew Information, which client was the flight completed for, Access Flight Notes, Delay reasons and many more.  Now, with the addition of Customer Contract Management, assignment of contracts on a per-flight basis before, during or post flight is simple and convenient. With powerful filters and data warehouse capability, searching is now a simple task & even easier to extract the complete billing records of work completed for a specific client.
If you have SkyNet REACH® Aero with Client Contract billing enabled, there is no reason you are not billing end customers on the 1st of every month!  If knowledge is power, then billing on the first day of the month is priceless…!
---
---
---
Accurate Flight Records up-to-the-minute

Export Filtered Flight Data to CSV

Editable Contract Assignment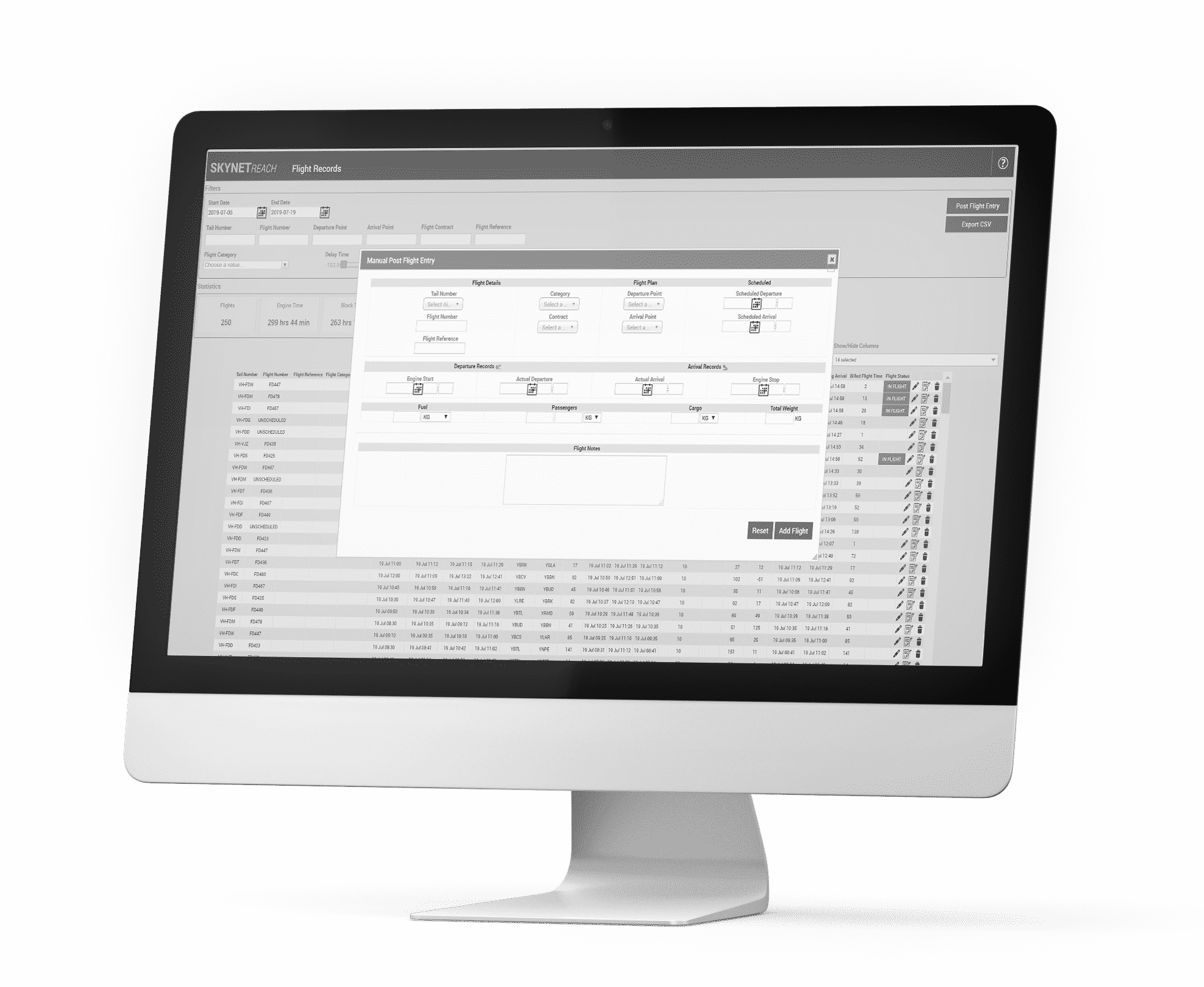 Flight Information Data System (FIDS)
---
A new addition to REACH® Aero Day of Operations - while FIDS is normally associated with Passenger area information displays, we have re-designed the concept to include much more in terms of information and editable fields for use as an internal system to keep all Operational departments up-to-date with basic On-Time Performance (OTP) and flight status. The new FIDS is suitable for Baggage, Catering, Operations and other internal general areas where people have a need to action arrivals and departures.
FIDS is also extended to include Crew Information and for Charter Organisation's Client Contract Assignment can also be managed from this display. FIDS is cram-packed full of just what people need to know to fine tune their jobs to always be on time and strive for increased performance.
---
---
---
For Internal Operational Teams

Real-Time OTP

Editable Data Fields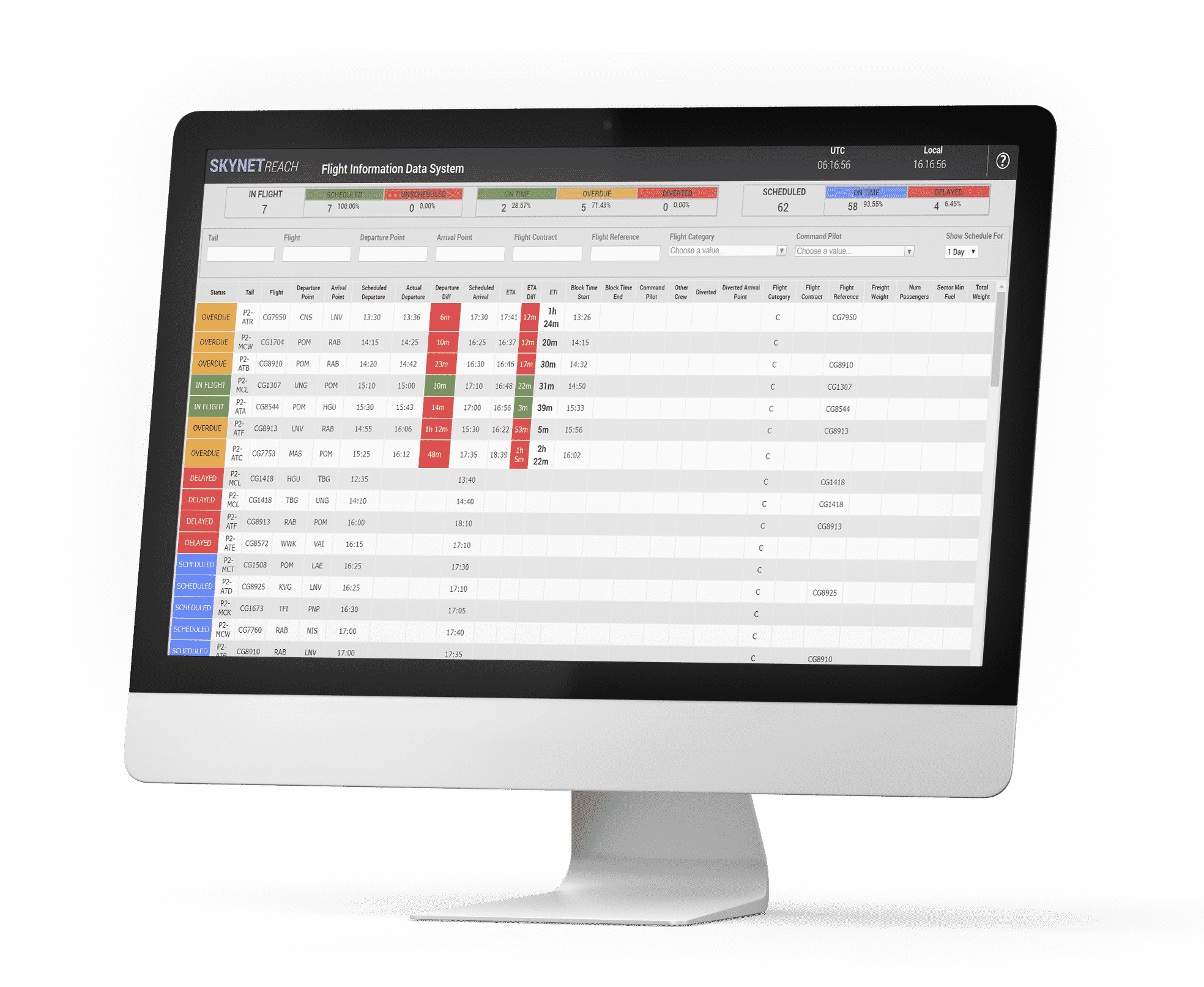 ---
SkyNet REACH® offers an integrated linked Engineering approach with enhanced Engineering Planning and Minimum Equipment List (MEL) watch. Flight times are fully tracked and Cycles & Dates automatically accrued.
---
---
---
Maintenance Program Admin

Engineering Order Management

SB / AD Administration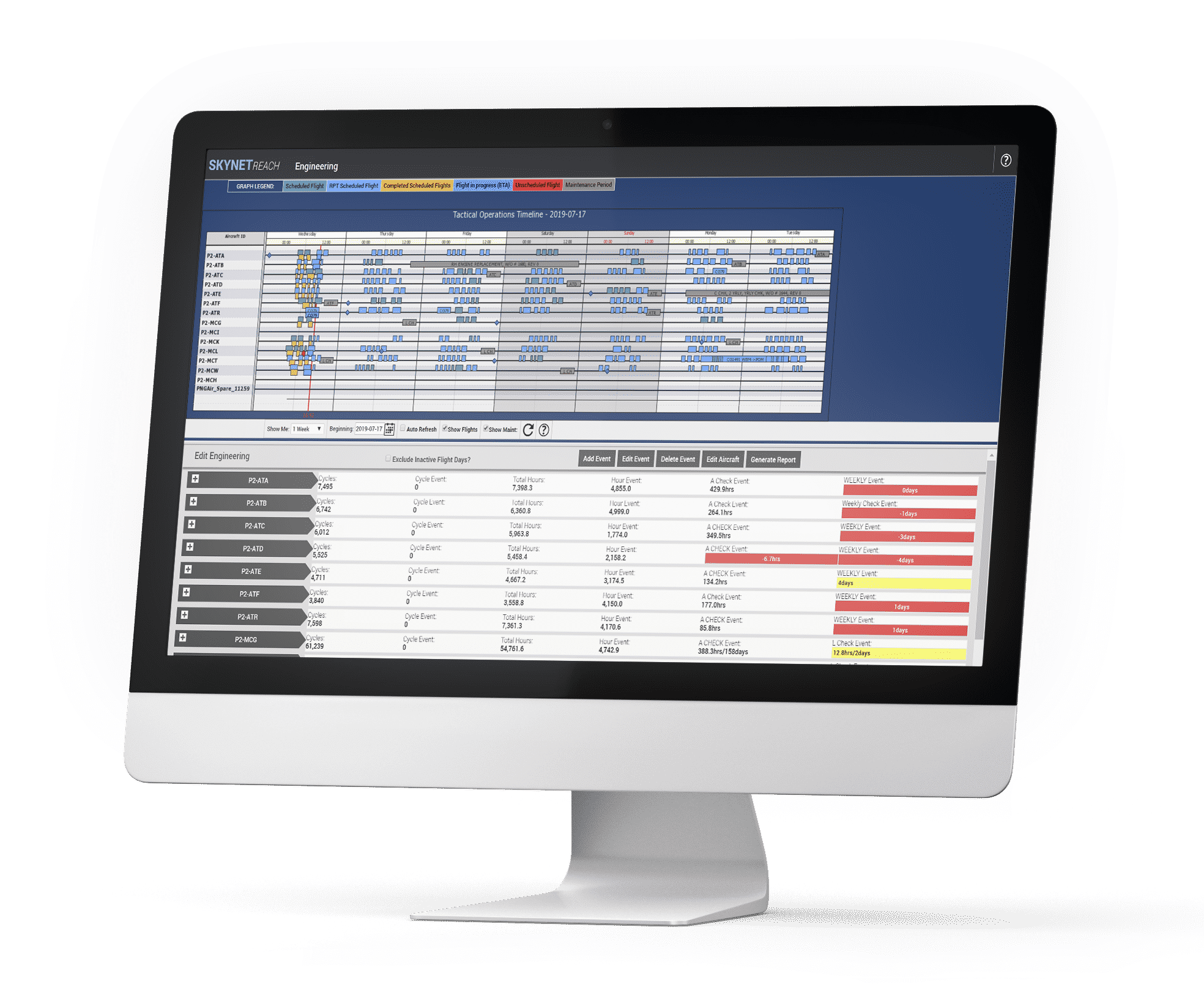 Other Features Available in the REACH® Dashboard
---
Automatic Tactical Flight Scheduling (ATFS)
Minimum Equipment List (MEL)
Maintenance Repair Organisation (MRO)
Custom Software Solutions
---
We have a history of supporting Large and Medium Domestic and International Airlines and Helicopter companies with bespoke custom software and analytics solutions. Filling in the Intelligence gaps of Airline Operations we work with clients wanting more information faster and smarter than their competition.
With fully IATA AIDX Compliant systems sharing interconnected and unrelated data sets to gain new analytics sees improved efficiencies. Our customers know their systems well and often see potential data just out of reach. SkyNet can extract, analyse and create reports and dashboards and alerting systems specific to our clients' needs.
SkyNet has a wealth of experience with communications bringing remote sites into the connected world. These comms are a vital commodity tying your information technology together, remote helicopter platforms at sea, or remote rural unreliable locations, a SkyNet Aviation solution can easily level the playing field.
---
Contact Us About A Custom Software Solution
---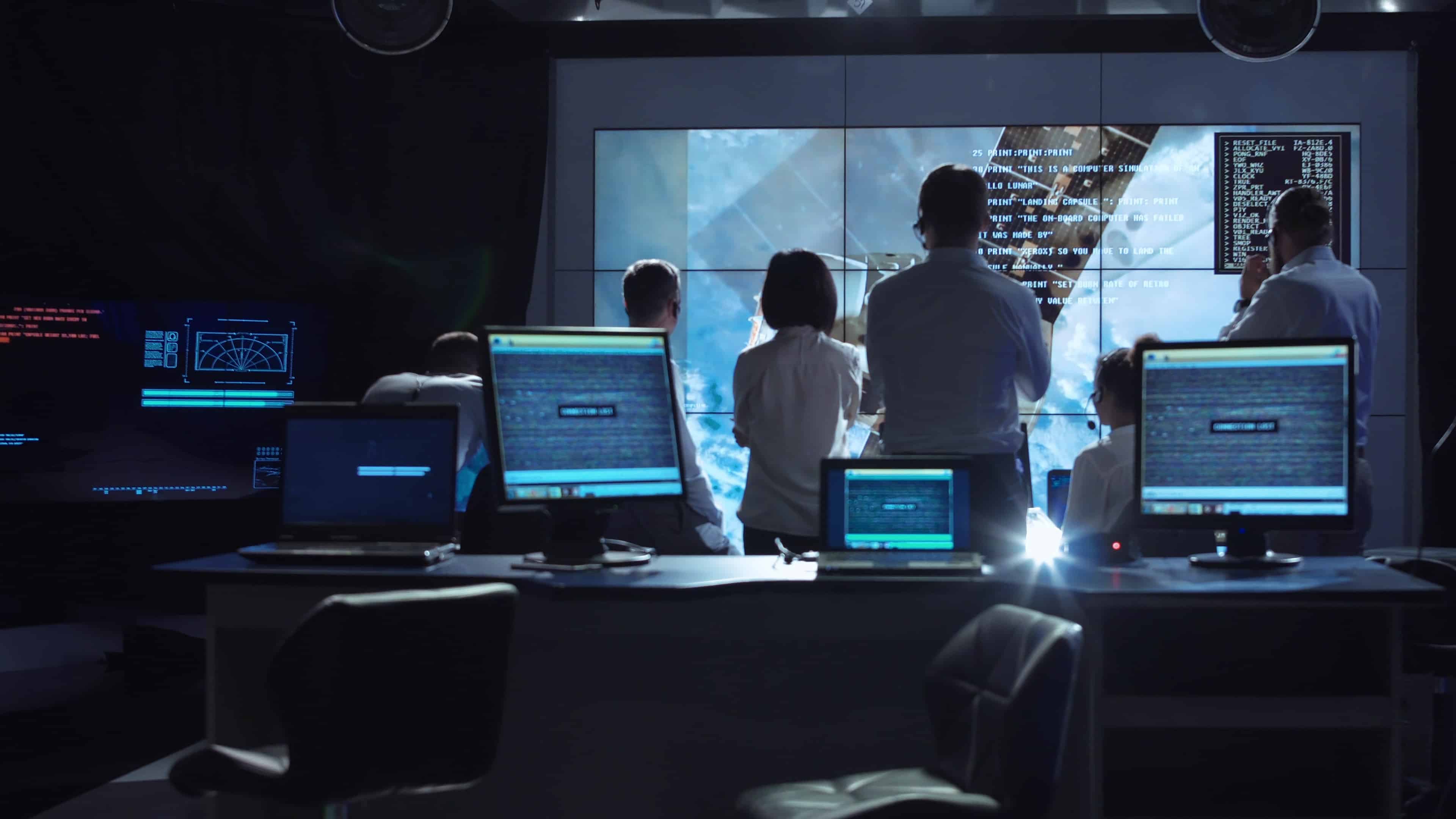 ---
SkyNet Aviation software engineers are industry specialists with computer science degrees backed up with 18 years of hands-on experience in building custom aviation software and custom reporting solutions. All SaaS Software is built in-house and hosted in high security and high availability cloud services with Amazon Worldwide Services, (AWS) or Microsoft.
---
Take SkyNet REACH® with you anywhere.
---