The effectiveness of ADS-B aircraft tracking in remote locations has just received another boost: SkyNet Aviation has just launched the world's first commercial-grade ADS-B receiver that's entirely solar-powered.
Fully self-contained, the unit promises to give operators seriously far-reaching aircraft-tracking capabilities that are entirely independent from supporting power grid infrastructure.
SkyNet Aviation CEO Jon Davis says the first solar ADS-B receiver is already in service in Brisbane, Australia. Meanwhile, several organisations are already making enquiries about placing units deep in the Australian Outback.
"Reporting back wherever there is cellular mobile signal, our new solar ADS-B unit still gives the same 250 nautical-mile maximum range and tracking capacity as SkyNet Aviation's standard grid-connected ADS-B receivers," Davis says.
"In fact, other than the wireless nature of the device, there's no change from the standard unit: they were already designed for energy efficiency and to withstand virtually any operating environment."
An efficiency and capability winner
Driven by ever-increasing safety and operational efficiency concerns, the aviation industry is hungry for cost-effective and real-time aircraft tracking solutions.
It is becoming increasingly clear that ADS-B is the ideal technology to meet the challenges. The only hurdle has been lack of network coverage. Solar-power for ADS-B receivers means this is about to change.
"Essentially, this device can run unattended indefinitely. There's no intervention required from your ground teams after set-up and there's no need to connect it to auxiliary external power," Davis says.
"Your solar ADS-B receiver will operate 24/7, either directly on solar power or on the battery charged by the panels. The receiver and panels are highly efficient and the batteries we specify are big enough to keep the system running even if you have weeks of non-stop rain."
While the supplied panel does not track the sun, if its orientation is correctly chosen it will still generate far more power than the system draws.
Aside from the SkyNet Aviation ADS-B receiver, the rest of the bundle consists of carefully chosen off-the-shelf components. This is a conscious choice by the designers to ensure replacement or alternative parts are readily available at low cost. Note: As many jurisdictions consider batteries to be dangerous goods, SkyNet Aviation is unable to ship one in the bundle (any off-the-shelf deep-cycle battery within specifications will suit).
"The solar panel used is commercial grade and rated to 200 watts. The panel then feeds a solar regulator that charges a deep-cycle 12-volt battery. The battery then feeds power to our standard commercial ADS-B receiver."
For ultra-remote placements, an optional high-gain antenna is available that boosts range through an extra 10dB receiver capability.
As for installation, it is simple and can be completed by any field technician without specialist training. The supplied mounting bracket can fit poles or roof positions. The external housing is a standard electrical component box that is lockable, ventilated and galvanised to offer good environmental protection and security.
A groundbreaking innovation that's simple to access
As an example of a conventional placement, the unit in the photos was mounted to a standard 88mm galvanised pole that was set into the ground with the ADS-B antenna attached to the tip.
"Once the cables were connected, all that was left to do was call SkyNet Aviation's technicians so they could confirm the signal," Davis says.
"It will be the same on any new receiver. Once your system is installed and set up, you contact SkyNet Aviation and we'll test it and confirm the signal. Once that is done, your receiver is in service. Activation usually takes less than 1 hour."
SkyNet Aviation's new solar ADS-B receivers really do represent a new era for remote aircraft tracking in real-time and at low cost. If you're interested and want to find out more, contact SkyNet Aviation today.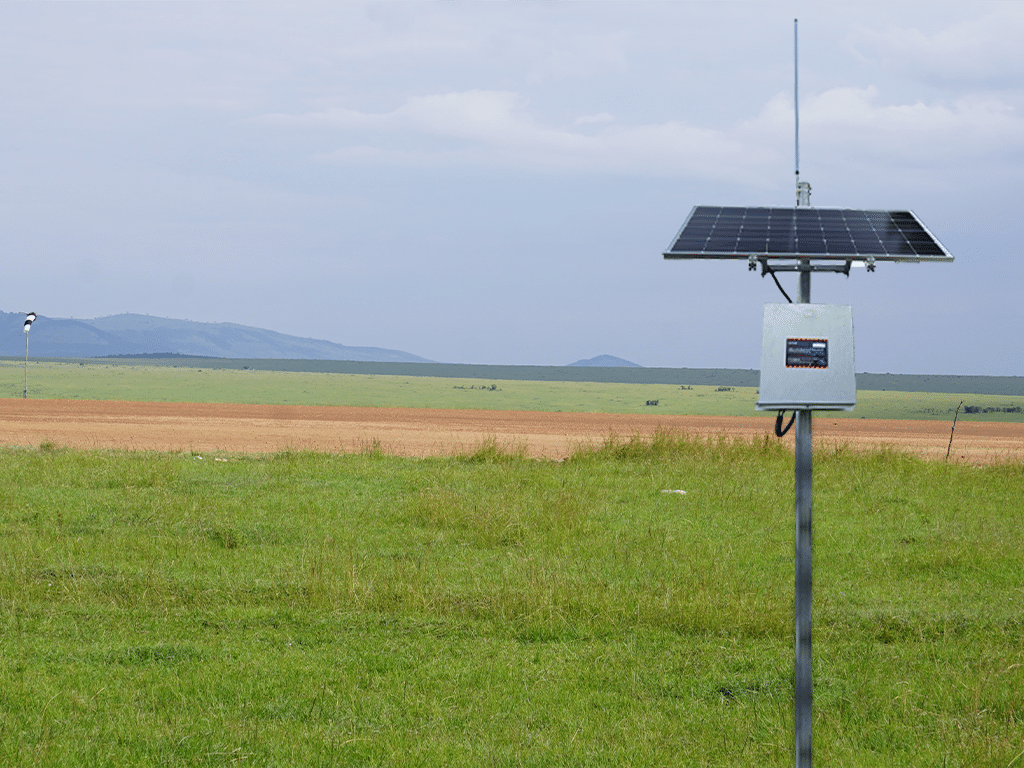 Pictured above: a SkyNet Aviation solar ADS-B receiver currently tracking aircraft completely independent of any support infrastructure.
— To learn more about SkyNet Aviation's commercial ADS-B, reach out to SkyNet Aviation here https://skynetaero.com/contact/