Built with Fixed Wing Airline Operators in Mind
---
Offering a new core level of Fusion Technology to enable small to mid-size Airline Operations a compliance package to maintain Critical Flight Safety, On-Time Performance (OTP) and specialised reporting functions. Covering a selection of Day Of Ops solutions including:
---

Real Time Flight Following.
Display & access from Fusion data sources including Satellite, ADS-B, 3G/4G and other technologies. Providing a unique full Day of Operations, OTP, Turn Reporting, Delay History Analytics, MRO Planning and Crew Rostering, including OOIO Off & On Gate logged times and data warehouse custom analytics.

IATA AIDX Data compliant.
Offering a selection of compliant and non-compliant custom API's to share intelligent information with other 3rd party systems, hosted with Amazon Worldwide Services (AWS) globally providing a scalability of service with high availability and high security.

Global Duress Alarm.
Flight Safety oversight, 2-way ground to aircraft text messaging, Enterprise Alarm Console and Escalation service, Pre-Arrival Automatic Notifications [TXT and e-mail], Inflight Diversion update, ETA to any point, Off track Alarms.
Your Aviation Day of Operations Suite
---
SkyNet REACH® Dashboards offer a unique real-time perspective of your activities and operations flow with live aircraft fleet locations refreshed up to 1-second intervals. Including a full scheduling suite of tools to Build, Deploy and Edit Flight Routes, Schedules and Flight Numbers.
We allow you to see the full global fleet disposition in a single view in real time. Operational efficiency is the goal for every operator and driving costs down with so many variables that can easily increase bottom line costs or waste precious time.
SkyNet REACH® provides a platform to keep your finger on the pulse and make changes that impact your bottom line, on the fly, from a real-time decision process.
---
---
---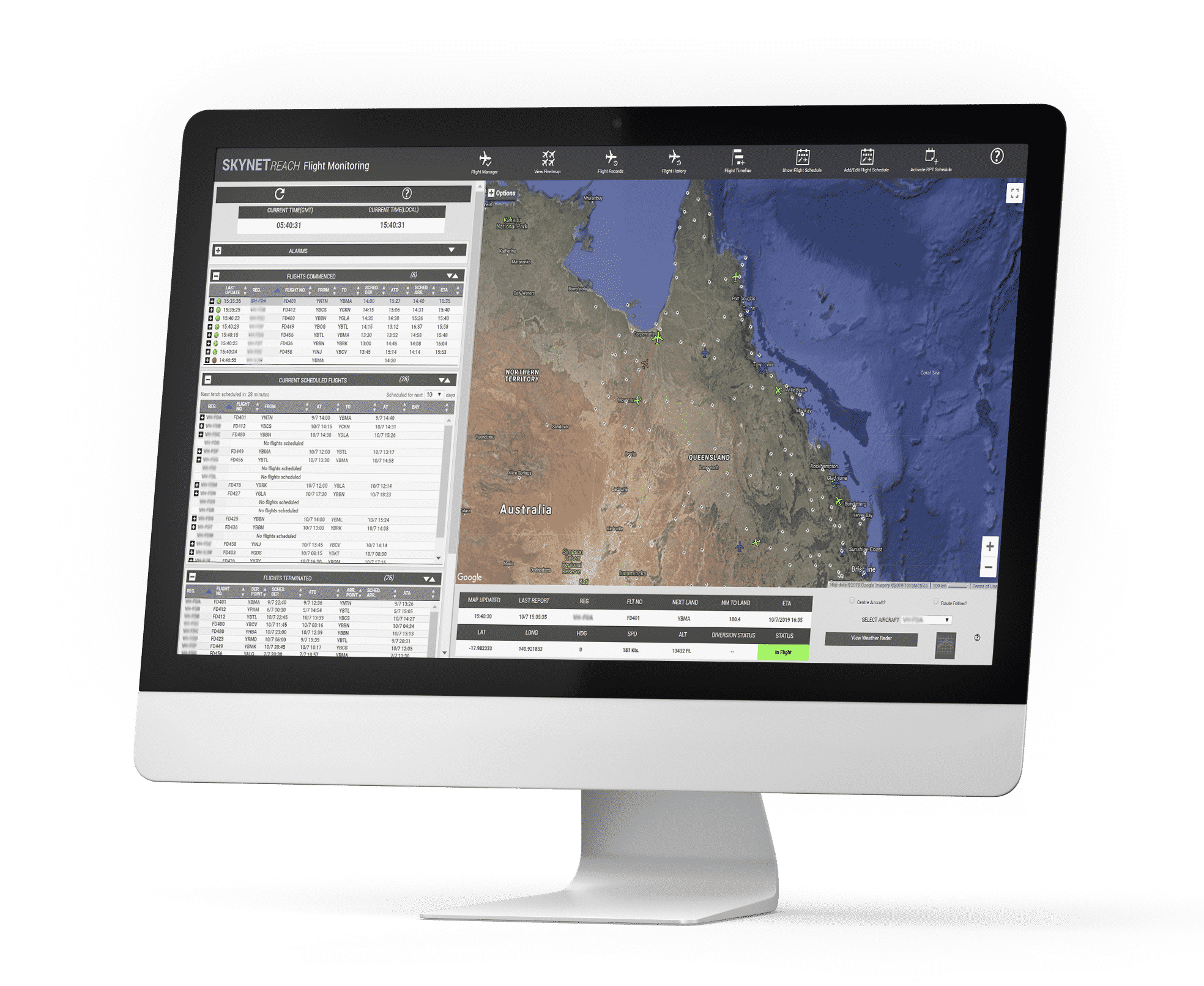 On Time Performance (OTP)
Post flight historical data includes our leading industry On Time Performance (OTP) dashboard to evaluate your post-flight performance and a full suite of IATA and custom Reason Codes to be industry compliant. OTP not only provides sound analysis for internal reporting, it can also demonstrate to code share partners or other public required reports that you can demonstrate real performance metrics.
---
Turn-Around Reporting (TAR)
TAR is becoming increasingly important for aviation companies from all streams. At no stage in a complete flight cycle are more events happening than on the ground that have the potential to delay departures or cancel flights. TAR can provide significant analytics to review which ports in your network have recurring ground delays and systemic problems caused by internal or external factors.
---
Flight History Records (FHR)
SkyNet REACH® now has enhanced FHR to include; Flight Categories, Client Contract ID's, Client Billing record profiles (i.e. From Engine Start to Stop or Block Time, or Take-Off to Landing etc.) Our new Data Warehouse service offers custom report building and delivers the data just how you want it. This new complete source includes many unrelated data points previously manually connected including Pilot and Crew information and Flight Time.
---
Built Right Into The REACH® Dashboard
---
Automatic Tactical Flight Scheduling (ATFS)
Minimum Equipment List (MEL)
Maintenance Repair Organisation (MRO)
Take SkyNet REACH® with you anywhere.
---
Contact Us for a Demonstration of REACH® Aero